The "Africa Work Group" is a Work Group within the Roman Catholic parish St. John the Evangelist in Nuertingen. It was established 2004 to promote and realise a school project in Cameroon. It now has 9 active members.
Our vision is one world-wide Church. Our goal is to closely support small manageable projects. We work together directly with our partners to realise these projects and this ensures that each project is sustainable after completion. From the modest beginning of a Cameroon school project more projects have been successfully completed over the years.
Focal points so far have been school projects and a training centre for women in Mamfe diocese, Cameroon and the construction of a borehole and restoration of a school in Imo State, Nigeria.
Current events: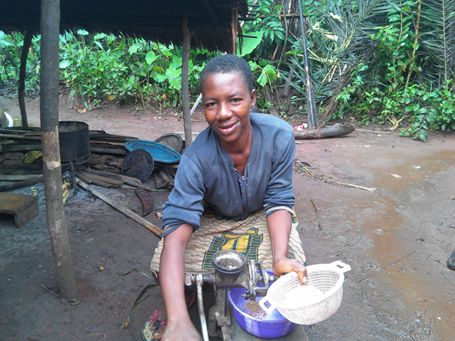 Microcredit for the women of Abajah
Ivy Hope Foundation is promoting and financially supporting small projects initiated by women of the village who are reliant on some small additional income to support their families. This initiative stems from the Women's Association who study and approve the projects for receipt of an interest-free microcredit of €100 (converted). The first repayment installment is due after 6 months. From the 420 applicants this year, only 30 could be financed. E.g. Gladys (photo) grinds the egusi seeds (rich in protein and fat and essential for the Igbo dish egusi soup) and sells them at the market. Please help more initiatives with your donation.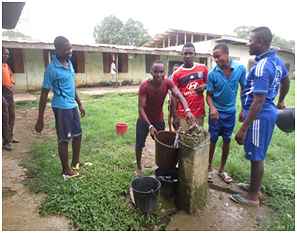 März 2015: Solar technology provides water to St John's College, Mamfe
A joint project between the Africa Work Group and the Diocese of Mamfe has brought solar power to the borehole at St John's College. The technology was purchased in Germany and shipped to Cameroon. Now water flows without expensive and polluting diesel - much to the joy of the pupils!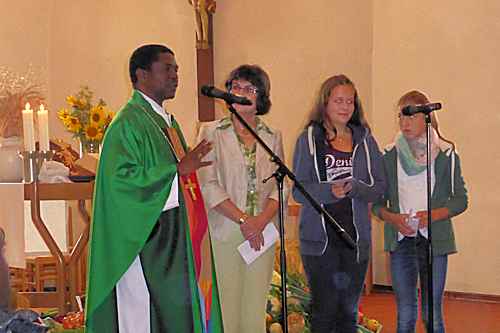 September 2014: Welcome visit from Bishop Andrew
Since January Mamfe has a new bishop: Andrew Nkea Fuanya. On his way back from Rome he took time out to visit us. In an ecumenical service we celebrated harvest thanksgiving in Oberensingen. The confirmation candidates were very keen to ask Bishop Andrew how life is in Mamfe and how harvest thanksgiving is celebrated there.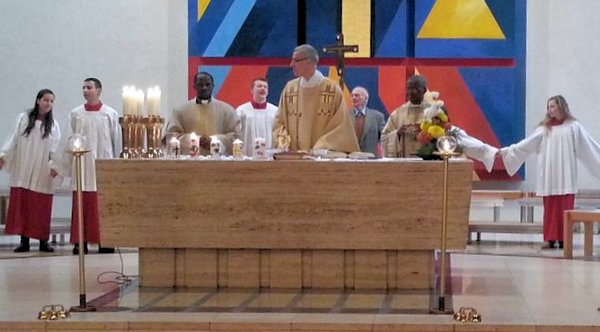 November 2013: Bishop Francis bids farewell
Bishop Francis Lysinge made his last official visit to Nürtingen, accompanied by Father Kennedy.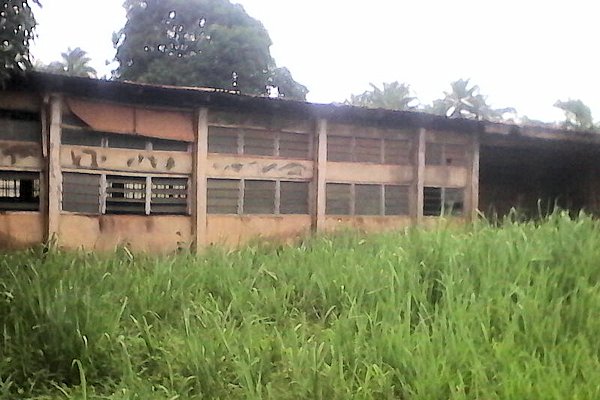 Renovation of the school science laboratory in Abajah
Work continues on the much needed renovation of the school. Funds from the carol singers campaign (Sternsinger) 2013 are being invested in a further school building in Abajah. This time a science laboratory for physics, chemistry and biology is being made fit for use.
Latest photos can be seen under Abajah School.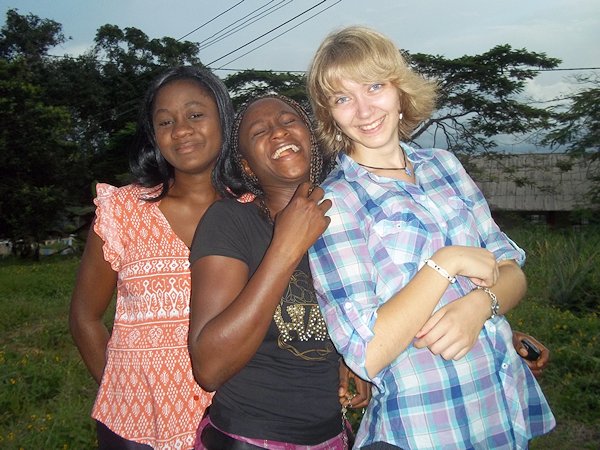 10 months in Cameroon
From September 2012 to June 2013 Sophia Wolters lived and worked in a Girls' Catholic Boarding School in Okoyong, Mamfe. There she taught computer studies.
Now she is back. Here you can read a short account of her experiences here.
Are you also interested in spending voluntary time abroad ?(further info)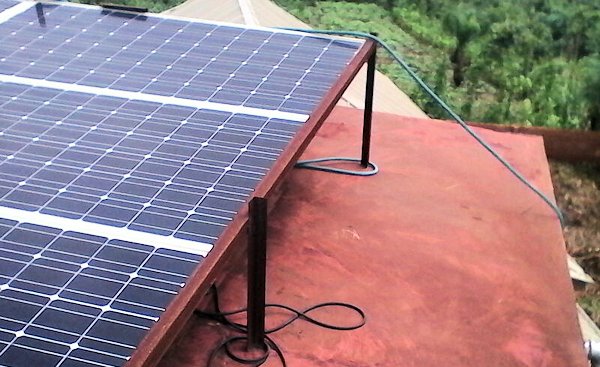 May 2013: Borehole in Abajah now running on solar technology
The Nurtingen project "Carless Mobility" contributed to the conversion of Abajah's community borehole from diesel generator to solar power operation. Thanks to the sun's energy there is now one generator less in operation and 10,000 people from 4 surrounding villages rejoice over a reliable source of clean drinking water.
The photo on the right shows the solar technology.
December 2012: not an inch of space was left
in the container which we sent to our
partners
in Nigeria and Cameroon in December, loaded with 11 tons of goods. It includes 3 turning machines, 4 welding machines and a milling machine, together with other tools and equipment to be used in our Nigerian youth training programme. Hospital beds, healthcare items and other humanitarian aid will also be put to good use by the Ivy Hope Foundation in Nigeria and the Diocese of Mamfe. The logistics of this enterprise stretched us to the limits. Without the support of
mks Metallbau Schreiber GmbH
in Wolfschlugen, who made warehousing, material, machinery and manpower available to us, we would not have been able to despatch the container.
One of the trainees (we reported in May on the metal fabrication training programme at GARP Training Centre) will also be using the machines for youth training in Nigeria.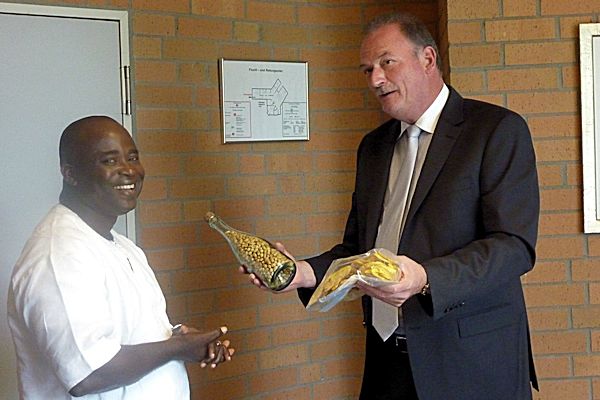 Oktober 2012: Clifford Orjiako in Nürtingen
Our partners in Nigeria is currently visiting us in Nürtingen to discuss and reflect on the metal work training programme which took place at GARP Training Centre in May this year, and to plan for the future of the Ivy Hope youth training programme.
The photo on the right: Clifford Orjiako expresses his thanks to Dr. Waiblinger, the managing director of GARP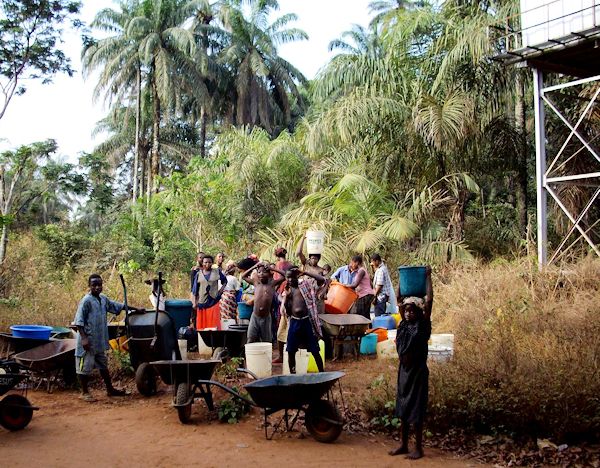 September 2012: A public event 'Carless Mobility'
Since 1997 a borehole in Abajah has been providing water for 10,000 people from 4 surrounding villages. The water is provided free of charge. The pump runs on a diesel generator but the generator no longer works. The borehole is now to be converted to solar power with the help of funds from "Carless Mobility". This will cost approx € 8,000 . We are grateful for all financial support we can receive.
The photo on the right shows the villagers collecting water in 2008.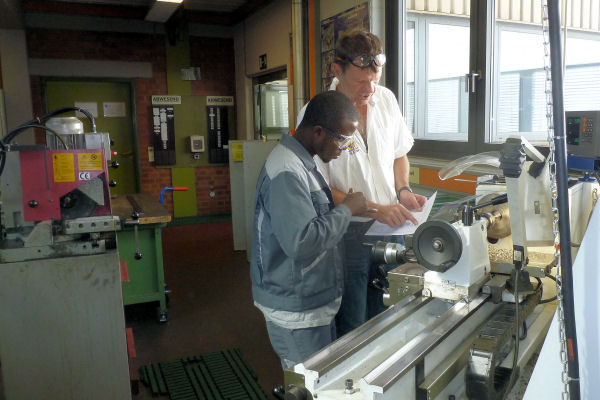 May 2012: Arrival of first two trainees from Nigeria
Our two Nigerian trainees were warmly welcomed in the parish of St. John's. Two days after their arrival they began their training in metal fabrication at GARP Training Centre in Plochingen.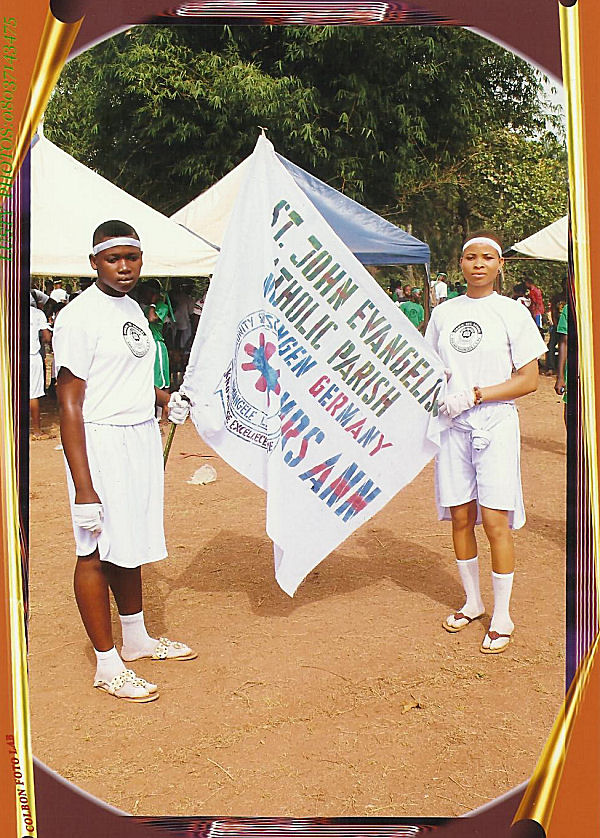 Abajah School flourishes under support of the Africa Work Group
Restoration is not restricted to infrastructure; morale is also restored. In March Abajah school proudly celebrated their Inter-House Sports Day in the presence of the Minister for Sport. One of the six houses proudly carries the name and banner of St. John's.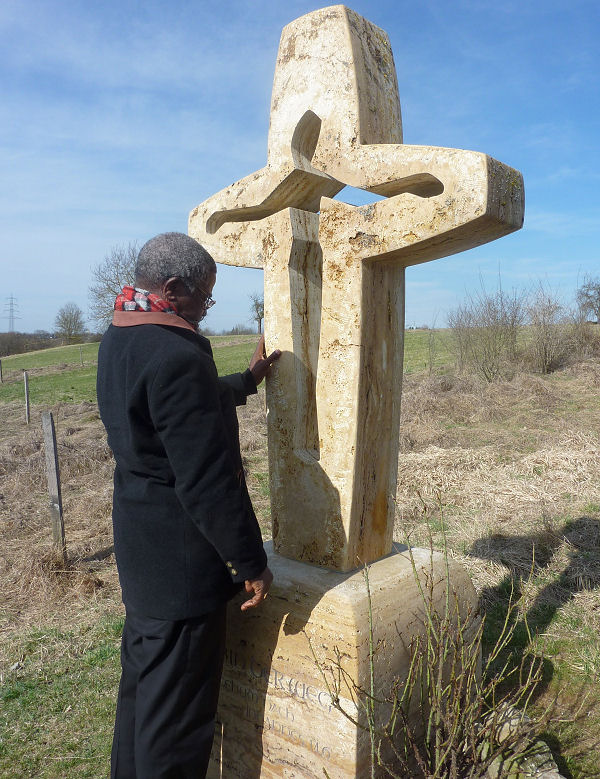 March 2012: Bischof Francis Lysinge in St. John's parish
Visit of Bischof Francis Lysinge and his secretary Fr. Maurice in St. John's parish in March '12. The photo shows a quiet moment at the centenary cross in Tiefenbach valley.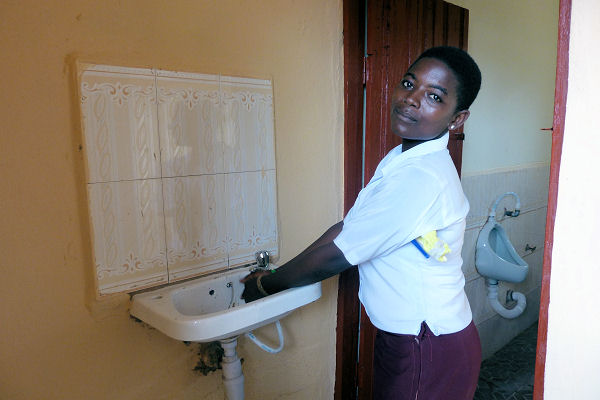 February 2012: Visit to Nigeria
The sanitary installations in Abajah Community Secondary School have been completed. During our 10-day visit we duly celebrated the opening of the sanitation block for 600 pupils (see photo album). We provided the teaching staff with learning material on hygiene and the transmission of diseases which we had brought with us.
We were also able to commence preparation of our next enterprise: Matthew and Joseph from Owerri had to be prepared for their stay in Germany. In May they will come to Nuertingen and begin training in metal fabrication at GARP Training Centre in Plochingen. Valiantly they began their language lessons in German.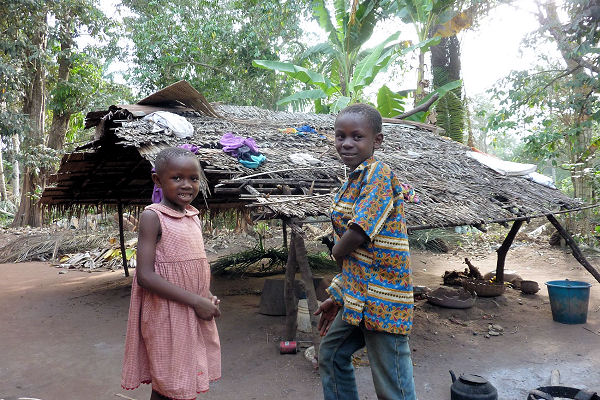 But not only the larger projects received our attention. It was a special and rewarding experience to visit the children who received your and our help in the past year: for example in financing schooling for young children, assuring safe deliveries of new births and providing medical care. Their smiles greet you on the right!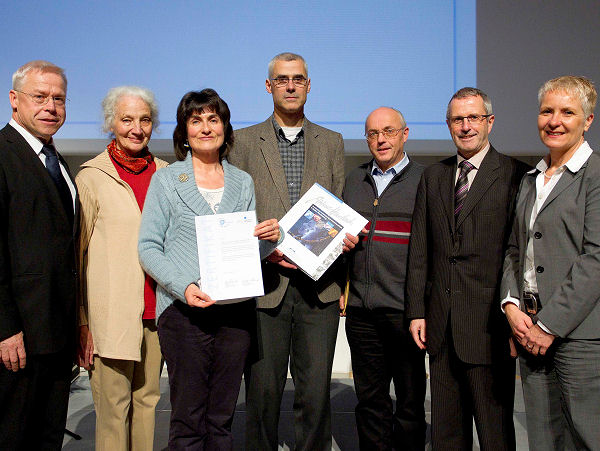 3 December 2011 Day of Activity for Municipal Development Programmes
To mark the end of the initiative My world. Your world. One world., which took place across the whole of Baden Württemberg, over 170 active persons, the majority voluntary workers, came to Stuttgart to take part in the Day of Activity organised by the Foundation for Development Programmes. Under the patronage of Peter Friedrich, Minister for International Matters, the day focused on the various ideas and projects for One World. Anne O'Callaghan, Father Martin Schwer (Parish Priest) and Erhard Baier (3rd, 4th and 5th from the left) also took part.

July 2011: Clifford Orjiako in Nürtingen
Our partner in Nigeria, Clifford Orjiako from the Ivy Hope Foundation, on his visit to Nuertingen. Clifford took the opportunity to visit the Friedrich-Glueck primary school and the Hoelderlin Grammar School to talk to pupils about life in Nigeria and tell them how the funds raised in Nuertingen are being put to use.

Opening of the Women Empowerment Centre
In February 2011. The training centre for women in Mamfe, Kamerun, began with a tailoring course. Further information about the opening with Bishop Francis to be found under Women Centre.
The visit in February 2011 to be found under report.

Medical care in Abajah
Before our visit to Nigeria in February 2011 many spectacles were donated. These were measured locally in Abajah. Within the framework of the distribution of these glasses, Clifford Orjiako organised a whole day medical care. This included further medical services and information on welfare and prevention of disease. This event was a great success. It is to be repeated at regular intervals. Further information under medical care
.

Commissioning of the renovated Abajah Community School
In February we were also honoured to attend the commissioning of the renovated Abajah Community School and library. Now we are in need of further financial support for the construction of a sanitary installation. Further information under Abajah School.

Visit from Bishop Francis Lysinge from the Diocese of Mamfe, Cameroon in January 2011.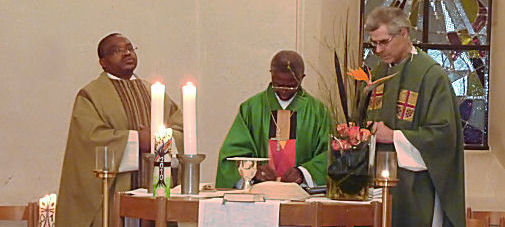 The photo on the left shows the bishop celebrating Mass in Nürtingen, Oberensingen.
The photo on the right was taken at Mass in Wolfschlugen.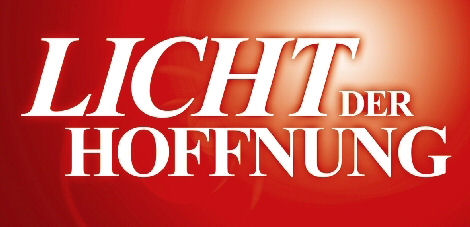 Campaign "Licht der Hoffnung" 2010/2011
Thanks to the support of "Light of Hope 2010/2011", a campaign by the local newspaper (Nuertinger Zeitung), we can support the Women's Empowerment Centre in the diocese Mamfe.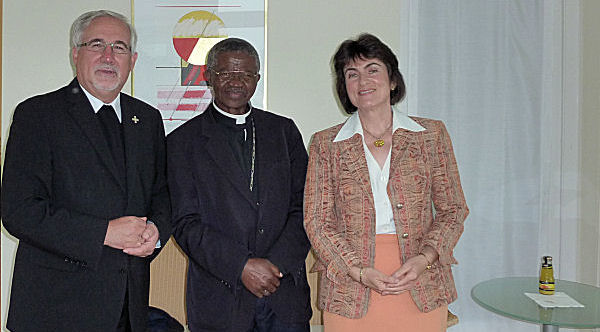 Stuttgart, July 2010
Meeting of bishops Gebhard Fuerst and Francis Lysinge, diocese Mamfe, in Stella Maris in Stuttgart (photo with Ms O'Callaghan from the Africa Work Group).